PSYOP STUDIOS SETS WORLD PREMIERE OF "BOTTLE CAP" FOR CLERMONT-FERRAND INTERNATIONAL SHORT FILM FESTIVAL
Animated short film is anticipated first in series of environmental
and ecological 'calls to action' from Directors Marie Hyon and Marco Spier
Clermont-Ferrand selection heralds expanding narrative short film production slate for the Animation Studio
02 February 2022 – Los Angeles, CA –Creative Content Studio, Psyop, has announced the world premiere of its most-recent short film, "BOTTLE CAP" from Directors Marie Hyon and Marco Spier, at the Clermont-Ferrand International Short Film Festival. The animated short film follows a fiddler crab named Shelton, who becomes an unwitting accomplice in the business of extinction as his dreams of being "average" are co-opted by new dreams of power and destiny.
"Psyop takes great pride in supporting creators, and bringing their unique voices to life. We are thrilled to see the curtain raised on Marie and Marco's vision for "BOTTLE CAP" at Clermont-Ferrand International Film Festival — their unique creative voices, and this vitally important story belong with a global audience," said Neysa Horsburgh, Psyop Chief Strategy Officer.
Hyon and Spier, who first were inspired to create Shelton's journey when they traveled thousands of miles to a remote island off the coast of Brazil, only to be met by a bottle cap being washed up onto the beach. The two were moved to action, doing what they do best – tell stories in the hopes that the narrative might create and inspire change.
"It has been a passion of ours to tell the tale of our little fiddler crab, Shelton, for a very long time," said Hyon and Spier. "To do so at Clermont-Ferrand, at the world's preeminent short film festival, is indeed a thrill and we especially look forward to the response of their renowned audience. We believe stories have the power to change behavior — we are excited and hopeful that in sharing our film, we can shine a light on real world problems and inspire all of us to become leaders for a better world."
Produced out of the award-winning animation studio, Psyop (co-founded by the two Directors along with Todd Mueller, Kylie Matulick, and Eben Mears), "BOTTLE CAP" was the recipient of the Epic MegaGrant. The 'dream team' of animators, artists and technicians soon brought Shelton to life in 3-D, and created Shelton's seaside world.
"BOTTLE CAP was truly a labor of love for everyone involved. We were able to assemble the perfect team for the project—-all long-time collaborators of the two directors. It really was a family affair at the end of the day, and everyone poured heart and soul into every frame of the film," added Andrew Linsk, Executive Producer.
"BOTTLE CAP" is the first title of the 2022 short film slate for Psyop, who will soon announce further selections at Festivals throughout Europe and the US.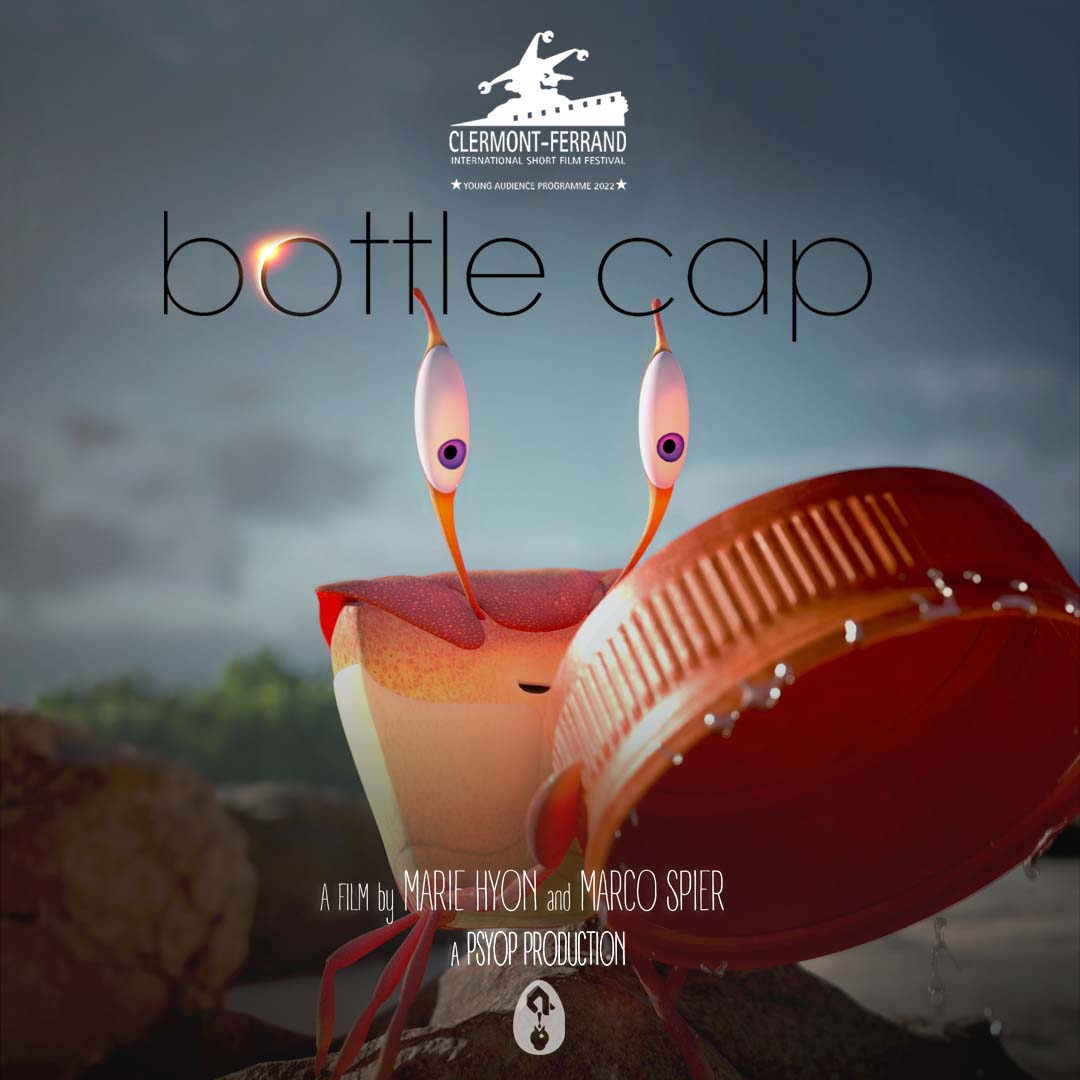 THANK YOU to the all artists who worked with us on this passion project. We could not have done it without you! And a big thank you to
all the EXTRAORDINARY MAKERS of PSYOP for their DEDICATION, infinite PASSION, and countless REINVENTIONS.